Home | About NCRA | About Radio Astronomy at TIFR | ASI Satellite Workshops | Weather in Pune | Places to visit in Pune | How to reach NCRA | Accommodation | Miscellaneous | Contact Us
---
From Mumbai Airport and Railway Station:
The City of Pune is approximately 160 km east of Mumbai and is well connected by Air, Rail & Road. It may take around 3-4 hrs by rail/road and 45-50 minutes by air.
By Air: Jet Airways has a non-stop flight 9W-618 at 10:05 hrs which lands at Pune airport at 10:55 hrs.
(The Jet airways flight 9W-617 departs Pune airport at 17:40 hrs and reaches Mumbai airport at 18:25 hrs).
Disclaimer: The information was correct at the time of compilation; kindly check for correction at the time of travel.
By Rail: The train journey will take about 4 hrs and are reasonably comfortable. For train details please check the link below:
https://www.irctc.co.in or http://www.indianrail.gov.in/
By Road: If you are travelling by road, the easiest is to avail Chartered vehicles from Mumbai to Pune and back.
They can pick you from your location and drop you off to NCRA, Pune. The details of travel agencies are given below.
K K Travels (Ph # 9822979797)
Shared Ride: Approximately Rs 950/- per person
Chartered vehicle: Approximately Rs.4000/-
M/s. Akbar travels (Ph # 020-24367997 or 1800 200 3434)
Chartered (smaller) vehicle: Approximately Rs.3500/-
Charlered (larger) vehicle: Approximately Rs. 4000/-
You can also take Shivneri buses which are very comfortable AC Volvo buses, and run every 30 minutes from Dadar to Pune.
In Pune:
NCRA is located inside the Pune University Campus. The easiest way to reach NCRA from Pune railway station is to take an auto-rickshaw. We suggest that you ask the driver to take you along the (old) Mumbai-Pune highway till Khadki railway station. Just before the station take the underpass (near Khadki Police station) to get on to Aundh Road (heading towards Bremen Chowk). NCRA's main gate is on Aundh Road, on the left just after you pass Ambedkar Chowk. (If you are familiar with the Pune University campus, you could have the driver bring you through the University main gate. If not we strongly recommend that you take the route suggested above.)
The nearest airport to Pune is situated at Lohegaon, 15 kms away from NCRA-TIFR. One can avail the services of prepaid taxi or auto-rickshaw from airport premises. The landmark is 'Savitribai Phule Pune University Khadki-Aundh Road gate.
Below are some of the car rental and taxi services in Pune:
1)  WINGS RADIO CAB - 020 40100100
2)  EASY RIDE CAB -  020 27 400 800
3)  TAXI FOR SURE - 020 6060 1010
4)  TRAVELTIME - 020 66 000 000
---
Inside the Pune University Campus
Click the map below to get an enlarged view. Follow the green coloured path to reach NCRA-TIFR from the Pune University main gate.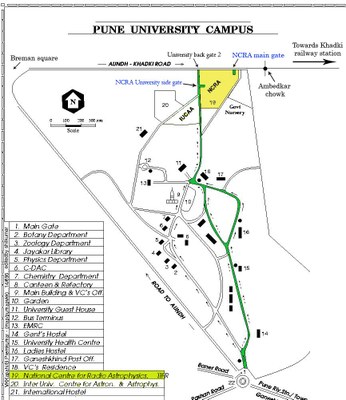 ---
Inside the NCRA campus.
Click the map below to get an enlarged view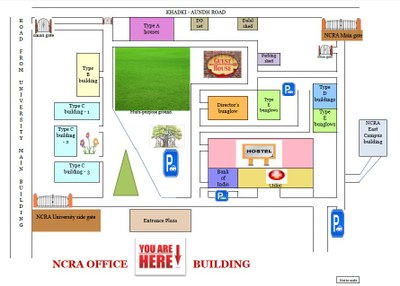 ---
Inside the NCRA Main Building.
Click the map below to get an enlarged view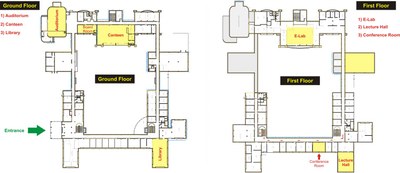 ---
Click the map below to get an enlarged view