REPORT OF THE WINTER SYMBIOSIS '95 AT THE NAMDAPHA TIGER RESERVE ARUNACHAL PRADESH, INDIA 13 -- 26 DECEMBER 1995
Report of the IIT Bombay Wildlife Club's Winter Symbiosis '95 held at the Namdapha Tiger Reserve is enclosed. Please distribute it freely to anyone who may be interested. This document is also available on the Internet via the following URL http://www-int.stsci.edu/~yogesh/wildlife.html
Please send comments/corrections/requests for more info to :
YOGESH WADADEKAR
Mail:
Yogesh Wadadekar
I-1 Rajat
968/20 S Bapat Road
Pune 411 016
India
Phone: 91 20 5657527 Email: yogeshw \at/ iitbombay.org
REPORT Of THE WINTER SYMBIOSIS '95 ORGANIZED BY THE WILDLIFE CLUB IIT BOMBAY AT THE NAMDAPHA TIGER RESERVE ARUNACHAL PRADESH, INDIA 13 -- 26 DECEMBER 1995
Yogesh Wadadekar
January 1996
We gratefully acknowledge the help and cooperation received from Project Tiger authorities at Namdapha Tiger Reserve particularly the Field Director, Mr. R.N. Naik, who made our stay at Namdapha a most pleasurable and memorable experience. We also take this opportunity to thank Prof. U.B. Desai (Chairman Cultural) and Prof. Dipan Ghosh (Dean Student Affairs) for support and assistance for our trip.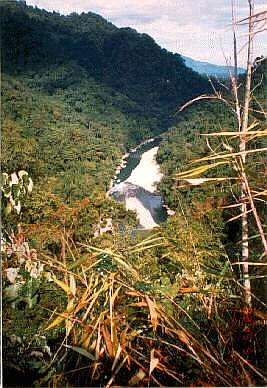 Namdapha Tiger Reserve lies in the Changlang District of Arunachal Pradesh, the easternmost state of the Indian Union. The present area of the park is 1985 sq. km. including 1808 sq. km. of core area and 177.4 sq. km. of buffer area. The park is bounded to the North by the Dapha Bum Ridge, a long range of mountains stretching East-West and having Dapha Bum peak (4598 m) as its highest point. Daphabum is also the highest point in the Reserve. To the south lie the Patkai Ranges on the Indo-Myanmar border. To the east are unbroken forests of the Vijaynagar circle up to the Myanmar border. The village of Deban lies on the western boundary.The entire area of the reserve is mountainous and forms the catchment area of the Noa-dehing (also known as the Diyun) a tributary of the Brahmaputra. The Diyun flows from East to West in the reserve. In addition there are some natural lakes, (locally called beels) in the high hills of Namdapha. Besides these there are a few small pools, such as Moti Jheel (near Gibbonsland), Rani Jheel (between Bulbulia and Firmbase), and Raja Jheel. These pools and lakes attract migratory water-fowl.[1]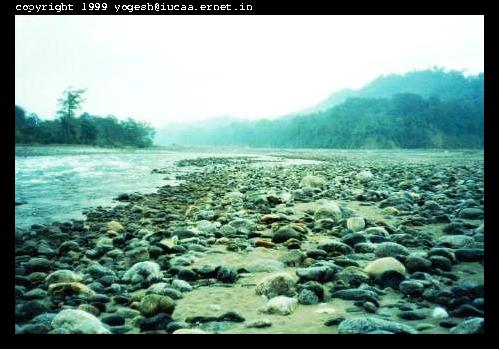 The Diyun Valley of Namdapha opens out to the upper Brahmaputra Valley. The North-eastern hills along Nagaland enclose the South-eastern sides of the upper Brahmaputra Valley while the Greater Himalaya and its foothills are positioned such that the monsoon clouds get trapped in Upper Assam causing extremely heavy rainfall. In all the valleys of Arunachal Pradesh opening to the West, particularly in the southern segment in which the Diyun valley lies, rain occurs most heavily for almost 8 months of the year with a short winter (October-January) being comparatively dry. The Diyun has a remarkably low valley floor. The mouth of the valley is less than 150 m above sea level while the uppermost reaches, about 175 km. to the east, are less than 1500m above sea level. As a result, tropical vegetation and climate occur throughout the length of the valley.
Historically, the Diyun Valley must have been a major migration path into India for Arunachal tribes who trace their origin from Thailand or further East. This is because the valley is the only route free of snow linking Upper Myanmar with the Assam Valley. Even in recent years this migration has been continuing in case of tribes such as the Lisu. The Lisu are today settled at Gandhigram lying at the Eastern end of the reserve. Their present number in this large settlement is about a thousand. The tribe is famed for their knowledge of the jungle and their hunting prowess. They hunt all kinds of wild animals for food. In recent years they have also been involved in hunting for trade.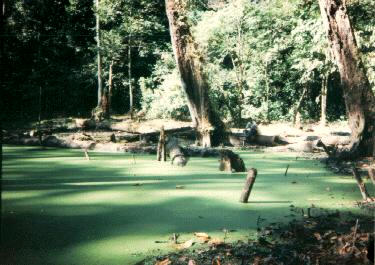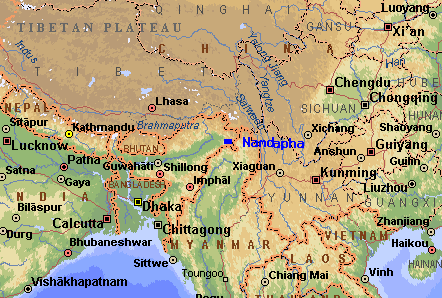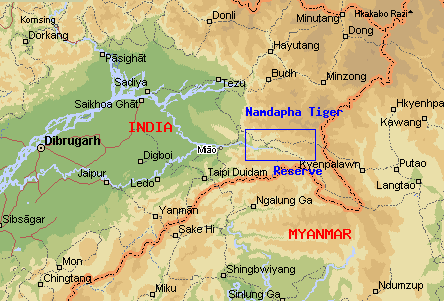 The headquarters of the Namdapha Tiger Reserve are located in the town of Miao. Miao is a quaint little town located on the eastern boundary of the reserve. Miao is conveniently accessible from the Assamese town of Tinsukia (110 km.) which is well connected to other Assamese cities (such as Gauhati, Dibrugarh) by road and rail. Regular bus services run by Assam and Arunachal Pradesh State transport services are available during the day from Tinsukia to Miao. (Fare Rs. 26/--, Time of travel: 4 hours). Night services run mostly by private operators are available between Tinsukia and Gauhati (Fare Rs. 145/--, Time of travel: 11 hours). The nearest airport to Namdapha is at Mohanbari (Dibrugarh). For traveler's from outside the North-east, the most convenient route is Gauhati-Tinsukia/Dibrugarh - Miao. Make sure you reach Tinsukia early in the day, as the last bus for Miao leaves in mid afternoon. The first bus for Miao from Tinsukia is at 0630.
Entry into Arunachal Pradesh requires a Inner Line Permit for Indian citizens and a Restricted Area Permit for foreigners which is issued by the Secretary (Political) Government of Arunachal Pradesh, Itanagar, Arunachal Pradesh. An Application giving all details of the proposed visit and information about the applicant such as date of birth, age, local address, permanent address should be made, (by post) at least two months in advance. The permit is also supposed to be available at Mohanbari, but the exact procedure is unknown to us. The Resident Commissioner of the Government of Arunachal Pradesh is stationed in New Delhi. He is also authorized to issue an Entry Permit after taking approval from the Secretary Political in Itanagar. The normal processing time for Inner Line Permit applications received in Delhi is 7 days. The visitor should also make it a point to inform the Field Director at Miao about the visit as any response from him is a useful document to have in case of any trouble. Entry into Arunachal Pradesh occurs at the Namchik Checkpoint, a few kilometers beyond the town of Jagun in Assam. Useful addresses are given on Page 8.
Accommodation for tourists is now available only at Miao and at the village of Deban which is 27 km. from Miao, and lies inside the reserve. Facilities at Miao are meant to serve as a transit for tourists bound for Deban. At Miao a Circuit House, Inspection Bungalow, and a Transit Lodge are available. The Circuit House is generally fully booked for Government officials, but the other two places are generally free. Deban is a far more interesting a place to stay than Miao. The forest rest house at Deban is located on the banks of the Diyun in incredibly beautiful terrain. It's a pity that it is often booked for VIP's visiting Namdapha.
Researchers are permitted to travel in the Buffer Zone. Simple housing (Bamboo huts thatched with leaves) in this Zone is available at various places such as Haldibari, Hornbill Camp, 27th Mile Camp, Bulbulia, and the 40th Mile Camp. The Park Administration is concentrating on providing simple accommodation facilities at various sites including Deban. Emphasis is being placed on providing only water facility along with arrangements for cooking on a wood fire. This rustic accommodation is free or nearly so. More sophisticated arrangements are available only at Deban, which has a full fledged Rest House with catering facilities.
Limited medical facilities are available at Miao. In case of emergency, patients need to be moved to Margeritta in Assam. Direct STD/ISD telephone facility is also available at Miao.
The vegetation may be broadly classified into tropical, temperate and alpine vegetation. The lowland tropical forests of Namdapha are perhaps the last remaining Dipterocarpus forests in India. The valley forests can be classified into the following (after Champion and Seth's classification.)
Assam valley Tropical Rain forests
North Indian Tropical Moist Deciduous forests
Miscellaneous forests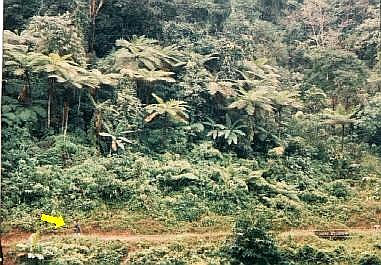 This type of forest is found in the Diyun Valley and in the hills up to a certain elevation. These forests are typically three- storeyed with Hollong and Mekai forming a definite dominant layer. The top storey also contains Hollock (Terminalia myriocarpa) and Jhutuli (Altinsia excelsa).The understorey is extremely dense with many species of woody shrubs, climbers, ground orchids (Dendrobium spp.) and ferns. Ferns are profuse and giant-sized too, the most handsome being the tree ferns, Cyathea spp]. and Angiopteris evecta. The variety of saprophytic fungi is also staggering.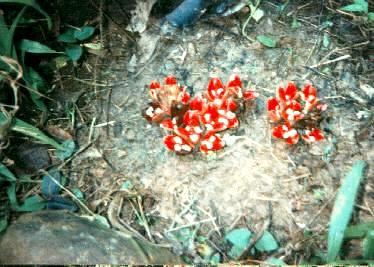 On alluvial flats, along rivers and stream banks and on the hill slopes, moist deciduous forests with most of the species in the top storey shedding their leaves, are found. The top storey is composed of Hollock and Khokan (Duabanga grandiflora) among other species. Bamboos (Bambusa spp. and Dendrocalamus sp.) dominate the understorey. Climbers are also plentiful.
There are scattered patches of Khokan, Borpat, Hilika etc. of various sizes. Undergrowth is very dense and contains canes besides other species. Wherever the natural vegetation has been disturbed Mikenia cordata has invaded the area and prevented any other vegetation from coming up. No details of the temperate and alpine forests is currently available, because these areas are inaccessible. In December 1995, when we were in Namdpha a team of Army men from the Mahar Regiment based in Margeritta were beginning their attempt to climb Dapha Bum. Their experiences should provide valuable about the forests present in Namdapha's highlands.
The sub-tropical humid climate and the virgin untouched forests of the area sustain the richest and most varied mammalian fauna, compared to any other area in India. The richness of Namdapha's faunal heritage is comparable to the best preserved tropical forests anywhere in the world. Of the 135 genera of land mammals recorded in India, 85 are represented here. Of the eleven Orders present Carnivora are the richest in genera with 23 Genera and 31 species. Namdapha is the only reserve in the world to house four species of big cats- the tiger, the leopard, the snow leopard, and the clouded leopard. It should be noted that although the snow leopard and the clouded leopard have been recorded here, sightings have been rare- less than five in the last decade. Their continued existence in Namdapha can be presumed because human pressures are non-existent. A list of mammalian species reported from Namdapha has been reported elsewhere[1]. Another attraction of Namdapha is as one of the last secure homes of India's only ape -the hoolock gibbon (Hylobates hoolock). Mornings in Namdapha are punctuated with the intermittent calling of troops of gibbons, vying with each other in trying to shatter the silence of the morn. A most elaborate description of the song of the gibbons has been provided elsewhere [2]. Although we heard Hoolock gibbons calling on a number of occasions we were not lucky enough to sight them. This is in contrast to our previous visit in 1993, when we were able to observe them on nearly a dozen occasions. Other members of the Primate family that we were privileged to observe, were the Capped Langur (Presbytis pileatus) near Embeong and the Assamese Macaque near 22nd Mile.
The profusion of squirrels of many kinds is a prime attraction too, especially when the sun is high and there is little other wildlife to be seen. We spent some time observing a Malayan Giant Squirrel feeding on flowers on a tree (Species unknown) right behind the dormitory at Deban and Hoary Bellied Himalayan Squirrels also at Deban. The Orangebellied Himalayan Squirrel was also seen at Deban and at 40th Mile Camp. Flying Squirrels were not encountered by us any where during our travels.
Our encounter with the big cats was restricted to spotting pug marks and droppings. We found a profusion of leopard pug-marks on the Miao -- Vijaynagar road. They were especially common in the vicinity of the 40th Mile Camp. Droppings were also found on 3 occasions. Tiger pug-marks were seen on three occasions between 27th Mile and 34th Mile. Jungle Cat ?? pug-marks were seen near 40th Mile. Fishing cat pug-marks were seen at Embeong. The identification of the Jungle cat and Fishing cat pug-marks is uncertain as we have never encountered Fishing cats before and Jungle Cat could be easily confused with the plethora of lesser cats that inhabit Namdapha --- golden cat, leopard cat, marbled cat etc. We found no evidence of any other member belonging to the cat family.
The Deer family representatives at Namdapha did give us the pleasure of a sighting this time. A barking deer was seen by us during our last few minutes in Namdapha. On our journey from Miao back to Deban we sighted one standing right in the middle of the road. As soon as it saw the jeep it sprinted away to the right. Barking deer calls were heard by us at a number of places after 34th Mile Camp even during the day. In the vicinity of 40th Mile Camp a rustling in the undergrowth was followed by a loud bark. The Deer must have been 50 -- 100 m. away from us. During our second night at 40th Mile Camp we heard barks outside a few minutes after getting into our sleeping bags. We were feeling too cold to go out and investigate.
We were unable to record the presence of bears, mongooses, wild dogs, porcupines, gaur etc. that have been previously recorded in the areas of Namdapha that we visited. There are two main reasons for this: The first is the short duration of our visit and the second is our extremely limited experience in the field.
The aim of improving visitor facilities in the Namdapha Tiger Reserve should be to strike a happy balance between the need to expose the maximum number of people to wildlife and the need to reduce the disturbance to the wildlife itself from tourists. Keeping this cardinal principle in view, we feel that the following steps could be taken.
Day visitors to Deban may be curtailed or eliminated completely. Day visitors from the neighboring Assam coal and oil fields tend to treat the reserve as their own back yard and cause disturbance to wildlife all along the road from Miao to Deban.
Genuine enthusiasts (such as our group) should be encouraged to travel only beyond Deban right up to 40th Mile Camp. This would assure that the accommodation at intermediate camping sites does not fall into disuse and there is increased vigilance in the area. There are problems in procuring water at the 22nd and the 27th Mile Camps. Efforts need to be made to solve this problem.
The MV Road should be maintained in motorable condition up to the 20 mile Camp. The view from here is incredible and overnight visitors to Deban should be encouraged to visit it.
The Interpretation Center coming up at Deban should be designed to highlight the following:

Namdapha' floral and faunal diversity and reasons for it.
Need to protect tropical Rain forests to prevent environmental disaster on a global scale.
Steps that concerned individuals can take to reduce or eliminate the use of rain-forest products such as timber.
The broad aims of Project tiger to protect the entire habitat of the tiger and the justification for it.

Elephant rides near the river at Deban serve no educative purpose. They only serve as pleasure rides which can be got at any zoo. In its place trained guides could take visitors around and familiarize them with the richness of flora and fauna all around. A Nature Trail around Deban giving suitable directions could be built so that visitors can explore on their own.
Useful Addresses:
Field Director, Project Tiger, Namdapha Tiger Reserve, Miao, Changlang District, Arunachal Pradesh. Tel: () 249
Bombay Natural History Society, Hornbill House, Dr. Salim Ali Chowk, Bombay 400023. Telegrams: HORNBILL Tel: (022) 243421, 243869, 244085
Secretary (Political), Government of Arunachal Pradesh, Itanagar,791111, Arunachal Pradesh,
Wildlife Secretary, Student's Gymkhana, Indian Institute of Technology, Powai, Bombay 400076.
The Resident Commissioner, Arunachal Bhavan, Kautilya Marg, New Delhi 110021. Tel: 3013915, 3012153
Centre for Science and Environment, F-6, Kailash Colony, New Delhi 110048. Tel: 6433394, 6476401, 6470870
References:
Nair Satishchandran S, Namdapha Biosphere Reserve, Man and the Biosphere Programme,Dept. of Environment, Govt. of India, October 1991.
Attenborough David, The Living Planet, Reader's Digest, 1989.
Brochure, Namdapha Tiger Reserve, Forest Dept., Govt. of Arunachal Pradesh.
Chatterjee A.K. and S.S Chandiramani, An Introduction to Namdapha Tiger Reserve, Arunachal Pradesh India, Tiger Paper, Vol XIII: No 3, 1986.
Dillon Ripley S and Ali S. , Pictorial Guide to the Birds of the Indian Subcontinent, BNHS, 1983.
Haribal M, Butterflies of Sikkim, 1992.
Ali S. , Birds of the Eastern Himalayas, OUP, 19
Dillon Ripley S and Ali S. , Compact Handbook of the Birds of the Indian Subcontinent, BNHS, 1984.
Appendix
Yogesh Wadadekar 90011005 H4/124
Sandeep Tambe 90010017 H4/119
Amit Verma
Shrikant Aithala
Ajay Gopal
Dhaval Doshi
Venkatesh Rao
Yashodhan Joshi
Only species observed by us have been listed. A more complete Checklist (with contributions from Salim Ali and Dillon Ripley) is much bigger and may be found elsewhere [1].
The birdlist has been ordered in increasing order of species numbers given in the Pictorial Guide [5]. The butterfly list has been ordered alphabetically on zoological names. The key below corresponds to the rather loose divisions we made in deciding where these birds/butterflies were seen. Too much importance should not be attached to them.
Key
| | |
| --- | --- |
| 1 | Miao |
| 2 | Deban |
| 3 | 22nd Mile |
| 4 | 27th Mile |
| 5 | 34th Mile |
| 6 | 40th Mile |
| 7 | Embeong |
| Pict | Zoological Name | English Name | Where seen |
| --- | --- | --- | --- |
| 26 | Phalacrocorax carbo sinensis | Large Cormorant | 7 |
| 120 | Mergus merganser orientalis | Eastern Merganser | 2 7 |
| 175 | Ichthyophaga ichthyaetus | Greyheaded Fishing Eagle | 7 |
| 433 | Ibidorhycha struthersii | Ibisbill | 7 |
| 493 | Treron apicauda | Pintailed Green Pigeon | 2 4 |
| 683 | Collocalia brevirostris | Himalayan Swiftlet | 6 |
| 715 | Harpactes erythrocephalus | Redheaded Trogon | 3 |
| 717 | Ceryle lugubris | Himalayan Pied Kingfisher | 7 |
| 755 | Coracias bengalensis | Indian Roller | 2 |
| 778 | Megalaima virens | Great Hill Barbet | 6 |
| 788 | Megalaima asiatica | Bluethroated Barbet | 2 6 |
| 809 | Picus canus | Blacknaped Woodpecker | ? |
| 861 | Chrysocolaptes lucidus | Larger Goldenbacked Woodpecker | 2 |
| 945 | Lanius tephronotus | Tibetan Shrike | 2 |
| 952 | Oriolus oriolus | Golden Oriole | 2 |
| 963 | Dicrurus adsimilis | Black Drongo | 6 7 |
| 965 | Dicrurus leucophaeus | Grey Drongo | 6 |
| 971 | Dicrurus aeneus | Bronzed Drongo | 2 3 4 5 6 7 |
| 972 | Dicrurus remifer | Lesser Rackettailed Drongo | 3 6 7 |
| 1015 | Gracula religiosa | Hill Myna | 3 |
| 1038 | Dendrocitta formosae | Himalayan Treepie | 4 |
| 1054 | Corvus macrorhynchos | Jungle Crow | 7 |
| 1081 | Pericrocotus flammeus | Scarlet Minivet | 4 6 |
| 1106 | Chloropsis hardwickii | Orangebellied Chloropsis | 3 |
| 1120 | Pycoconotus jocosus | Redwhiskered Bulbul | 2 7 |
| 1128 | Pycoconotus cafer | Redvented Bulbul | 1 2 6 |
| 1147 | Hypsipetes flavalus | Browneared Bulbul | 6 |
| 1247 | Paradoxornis ruficeps | Greater Redheaded Parrotbill | 6 |
| 1283 | Garraulax leucolophus | Whitecrested Laughing Thrush | 2 3 5 6 7 |
| 1347 | Gampsorhynchus rufulus | Whiteheaded Shrike-babbler | 6 7 |
| 1392 | Alcippe nipalensis | Nepal TitBabbler | 3 4 6 |
| 1401 | Heterophasia picaoides | Longtailed Sibia | 6 |
| 1429 | Muscicapa macgrigoriae | Small Niltava | 3 |
| 1455 | Rhipidura albicollis | Whitethroated Fantail Flycatcher | 4 |
| 1615 | Seicercus burkii | Blackbrowed Flycatcher-Warbler | 6 |
| 1624 | Absoscopus Schisticeps | Blackfaced Flycatcher Warbler | 6 |
| 1661 | Copsychus saularis | Magpie Robin | 1 |
| 1677 | Phoenicurus auroreus | Daurian Redstart | 2 |
| 1679 | Rhyacornis fuliginosus | Plumbeous Redstart | 4 6 7 |
| 1684 | Enicurus scouleri | Little Forktail | 3 4 6 |
| 1685 | Enicurus immaculatus | Blackbacked Forktail | 7 |
| 1686 | Enicurus schistaceus | Slatybacked Forktail | 7 |
| 1716 | Chaimarrornis leucocephalus | Whitecapped Redstart | 2 3 4 6 7 |
| 1729 | Myiophonus caeruleus | Himalayan Whistling Thrush | 2 |
| 1775 | Cinclus pallasii | Brown Dipper | 4 7 |
| 1789 | Melanochlora sultanea | Sultan Tit | 4 |
| 1891 | Motacilla maderaspatensis | Large Pied Wagtail | 7 |
| 1919 | Aethopyga gouldiae | Mrs Gould's Sunbird | 6 |
| 1925 | Aethopaga Saturata | Blackbreasted Sunbird | 4 6 |
| 1932 | Arachnothera magna | Streaked Spiderhunter | 7 |
| 1946 | Passer rutilans | Cinnamon Tree Sparrow | 6 |
Hoolock gibbon (heard)
Capped Langur
Assamese Macaque
Chestnutbellied Himalayan Squirrel
Hoarybellied Himalayan Squirrel
Malayan Giant Squirrel
Threestriped Himalayan Squirrel
Barking Deer
Eastern Mole (dead)
Sambar (carcass + pug-marks + droppings)
Tiger (pug-marks) Panthera tigris
Leopard (pug-marks + droppings) Panthera pardus
Gaur (pug-marks) Bos gaurus
Elephant (droppings) Elephas maximus
| | | |
| --- | --- | --- |
| Abisara fylla | Dark Judy (female) | 2 3 |
| Acetolepis puspa gisca | Common Hedge Blue | 3 4 6 |
| Appias lalage durvasa | Spot Puffin | 6 |
| Appias lyncida elinora | Chocolate Albatross | 3 4 6 |
| Calda elna noliteia | Elbowed Pierrot | 4 6 |
| Catopsilia pyranthe | Mottled Emigrant | 2 |
| Cepora nadina nadina | Lesser Gull | 3 4 5 6 7 |
| Cethosia cyane | Leopard Lacewing | 1 3 6 |
| Cheritra freja freja | Common Imperial (male) | 2 |
| Chersonesia risa risa | Common Maplet | 4 6 |
| Cirrochroa aoris aoris | Large Yeoman | 2 3 |
| Cyraphium sarpedon sarpedon | Common Bluebottle | 6 |
| Cyrestis thyodamas thyodamas | Common Map | 3 4 6 |
| Delias aglaia | Redbase Jezebel | 2 3 4 5 6 |
| Delias agostina agostina | Yellow Jezebel | 2 3 4 5 6 |
| Eurema andersoni andersoni | One Spot Grass Yellow | 2 3 4 5 6 |
| Euthalia aconthea sudelhodana | Common Baron | 4 6 |
| Heliophorus androcles moorei | Azure Sapphire | 2 |
| Heliophorus brahma | Golden Sapphire | 2 3 |
| Heliophorus epicles indicus | Purple Sapphire | 4 6 |
| Hestina nama | Circe | 4 6 7 |
| Hypajimnas bolina | Great Eggfly | 2 4 |
| Isias pyrene familiaris | Yellow Orangetip | 2 3 4 6 |
| Issoria sinha sinha | Vagrant | 3 |
| Moduza procris procris | Commander | 3 4 |
| Mycalesis perseus blasins | Common Bushbrown | 6 |
| Neope confusa confusa | Banded Treebrown | 4 |
| Neptis ananta ochracea | Yellow Sailor | 2 |
| Neptis bylas varmona | Common Sailor | 2 3 4 6 |
| Parantica aglia melanoides | Glassy Tiger | 2 |
| Parantica sita sita | Chestnut Tiger | 2 3 |
| Parathyma nefte inara | Colour Seargent (female) | 3 |
| Parathyma ranga ranga | Blackvein Seargent | 3 |
| Poritia hewitsoni hewitsoni | Common Gem | 2 7 |
| Precis almana almana | Peacock Pansy | 3 6 |
| Precis atlites atlites | Grey Pansy | 3 6 |
| Ragdia crisilda crito | Ringlet | 2 4 |
| Rohana parisatis parisatis | Black Prince | 3 |
| Symbrenthia lilaca khasiana | Common Jester | 2 3 4 5 6 |
| Tirumala septentrionis | Dark blue Tiger | 2 |
| Vanessa indica indica | Indian Red Admiral | 2 |
| Vindula erota erota | Cruiser | 3 |
| Zemeros flegyas indicus | Punchinello | 2 4 6 |
1. Hollong (Dipterocarpus macrocarpus)
2. Hollock (Terminalia myriocarpa)
3. Mekai (Shorea assamica)
4. Jhutuli (Altinsia excelsa)
5. Wild Banana
6. Tree Ferns
7. Khokan (Duabanga grandiflora)


There is a profusion of ferns, orchids, creepers, climbers, lianas and the like. There are literally thousands of plants out there awaiting discovery by enthusiastic botanists.

NOTE: The list presented above is merely a fraction of Namdapha's rich natural heritage that we were able to sample with the limited amount of time and knowledge available to us. It should be noted that we could learn so much in spite of having no background in Life Sciences whatsoever. Students of Botany/Zoology would undoubtedly find it easy to multiply the list many fold. We would also state here that we saw more bird species than we identified. There were many reasons for this - wary birds, low light conditions, low magnification on our binoculars and thick vegetation.

---
URL: http://www-int.stsci.edu/~yogesh/wildlife/namrep2.shtml
Last modified on: Tue Apr 5 15:41:17 2005